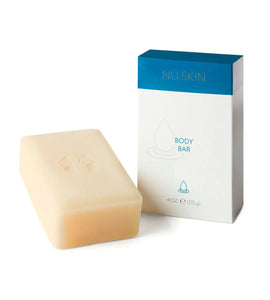 Body Bar
Nu Skin's Body Bar is an effective soap-free cleanser to deep cleanse your skin without causing irritation. It contains a unique blend of revitalizing ingredients to refresh your skin and leave it feeling soft and smooth. The Body Bar is also mild and non-irritating, making it ideal for daily cleansing. Get deeper cleansing power, the essential hydration you need, and the health and rejuvenation benefits your skin deserves.
Nu Skin's Body Bar is a soap-free cleanser formulated to clean thoroughly without stripping skin of its natural oils. Here are some specific benefits that Nu Skin claims for their Body Bar:

**Deep Cleansing**: The Body Bar is designed to cleanse the body effectively, removing the surface layer of daily particles, sweat, and oils without causing irritation.
**Moisturizing**: Despite its effective cleaning, it doesn't strip the skin of its natural oils. It has ingredients that moisturize, helping to leave your skin feeling soft and smooth.
**Skin Rejuvenation**: The bar contains ingredients that promote skin health and rejuvenation, encouraging smoother, younger-looking skin.
**Mild and Non-Irritating**: The formula of the Nu Skin Body Bar is soap-free and gentle, making it appropriate for most skin types, including sensitive skin.
**Refreshing Scent**: The Body Bar has a pleasant, clean scent that leaves you feeling refreshed after use.
As always, individual results may vary, and it's important to be aware of your body's unique needs and responses to skincare products. Each person may have a unique skin type or condition that reacts differently to different products.